Two major Canadian banks have signed on to Apple Pay, marking a significant expansion of the tech giant's mobile wallet service in Canada.
Starting Tuesday, Interac debit and major credit cards issued by Royal Bank of Canada and Canadian Imperial Bank of Commerce will support the payments technology, which allows users to load cards onto their iPhones and Apple Watches and make in-store purchases using their devices.
Two other financial institutions, ATB Financial, and Canadian Tire Financial Services, are also part of Tuesday's build-out, with the other three big banks rounding out Canada's Big Five expected to join in the coming months.
The involvement of the big banks marks a milestone for Apple Pay, which launched on a small scale in Canada late last year through American Express.
"We are thrilled that seven of Canada's leading banks, including … every one of the Big Five, are bringing Apple Pay to their customers," said Jennifer Bailey, Apple's vice-president of Apple Pay, in an interview.
CIBC and RBC are supporting MasterCard, VISA, and American Express credit cards as well as debit cards while ATB's debit capability will come at a later date. Canadian Tire Financial will only support credit.
Bank of Montreal, Toronto-Dominion Bank and Bank of Nova Scotia have also agreed to support the service in the coming months, according to the tech giant, but don't have a specific launch date.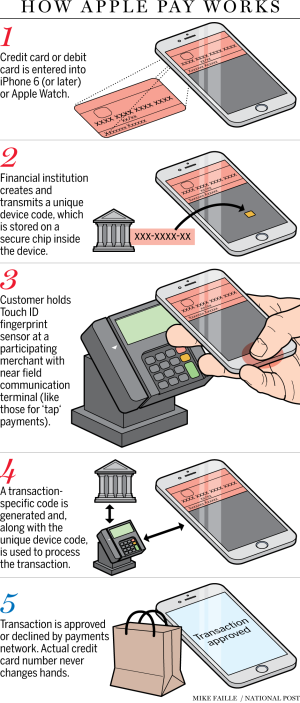 It's been a long time coming for Canada and Apple Pay, a service first launched in the United States back in October 2014. Canada — which is typically in the first wave of new Apple offerings — didn't get a taste of Apple Pay until 13 months later in November 2015, with its limited American Express launch.
The Canadian expansion follows a period of uncertainty in the country's mobile wallet space, as the major financial institutions have been working to develop their own solutions.
CIBC, Bank of Nova Scotia and Royal Bank of Canada are among the banks that were chasing after consumer digital transactions with their own apps.
The banks, which have been in talks with Apple for months, had indicated that two issues were fundamental to any partnership with the tech giant: The need to maintain client security and to preserve client relationships.
But the financial institutions were realistic, too, recognizing the pull of a brand like Apple and realizing that they did not want to put customers in the position of having to choose between their bank and their phone.
The negotiations between Apple and the banks are also understood to have involved working out how the parties would share lucrative "interchange" fees that are taken on each credit card transaction.
Bank officials would not comment Monday on the financial terms of the Apple Pay agreement.
Todd Roberts, CIBC's senior vice president of innovation, said that the important thing with joining Apple Pay is staying relevant with consumer demands and modern conveniences.
"This is another way for clients to use our great credit and debit cards, and put them in a digital wallet instead of a physical, leather one," he said. "Whether it is Apple Pay, suretap or CIBC's mobile wallet app, our job is to provide clients with safe, easy choices and this is another one."
Bringing Interac, the unique-to-Canada operation that handles all payment transfers between financial institutions, on board was also significant: without it Apple Pay would have been limited to credit cards.
"We've been very clear that we will provide solutions that our clients want, but it's been very important to consumer and merchant clients that both debit and credit be supported," said RBC's Linda Mantia, executive vice president of digital, payments and cards.
Bailey said the integration with Interac, which is part of Tuesday's roll-out, was one of the major reasons for the delay in expanding Apple Pay.
"Adding a new network to Apple Pay's platform takes new work for both Apple and the network itself," she said. "All of the partners — the banks, Apple and the networks — have to build up this new integration and do full testing."
For the Apple Pay launch, Interac developed an Interac Token Service Provider (TSP) that generates secure tokens for transactions. The token is encrypted, meaning without the key it is meaningless to third parties.
"We have been working on it for a year and half," said Avinash Chidambaram, Interac's vice president of product and platform development. "But we have also been working with Apple to educate them on the Canadian market [and] highlight our ubiquity."
It is Interac's TSP and Apple's own encryption technology that the California-based company says makes Apple Pay one of the safest and most private ways to make transactions, particularly in a time when encryption, data leaks and privacy breaches are top of mind.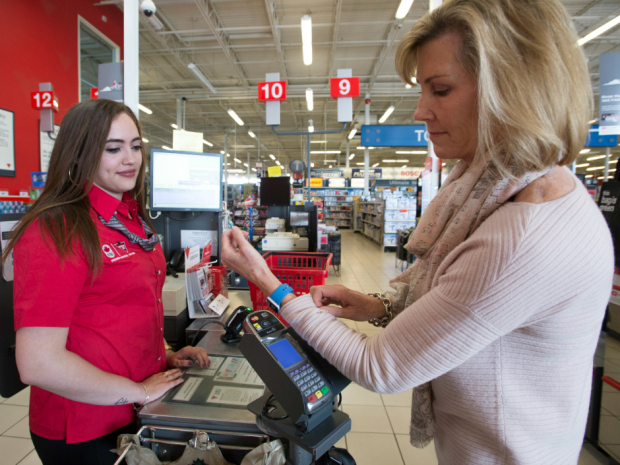 Laura Pedersen/National Post
Jennifer Bailey, vice president of Apple Pay, shows how to use Apple Pay using her Apple Watch
"We designed Apple Pay from the beginning so that the information about your transaction really is between you, your merchant and your issuer," said Bailey. "When you pay in store, Apple doesn't actually see that transaction because the credential is being initiated from your phone to the terminal, up through the network and then once approved it goes back through the payment rails."
This means that the personal information does not need to be sent to or from Apple through its servers, nor does it have to leave the device's dedicated internal storage chip (called Secure Element). The data stays on the phone's chip and is only accessed locally during the purchase process.
"We really wanted to keep the data about you private and give users that confidence that we aren't using that data to build profiles about them, do target advertising or anything like that," Bailey said.
Bailey says Apple has been pleased with how Apple Pay has been received since it's initial launch in the U.S. Since then, the service has been available in six countries in various forms.
"Consumers have spent billions of dollars in Apple Pay," she said. "We are adding one million new users per week."
The tech giant is hoping the momentum continues with this Canadian expansion and the country's high contactless adoption rate. Bailey said both Apple and the banks took note of Canadian feedback during the past 19 months.
"If you go back and look at social media, it is a great indicator of the excitement and people's reaction to Apple Pay," she said. "They (reach out) to partner banks saying, 'Hey we really want you to support Apple Pay.'"
With files from Barbara Shecter.
Financial Post
jomcconnell@nationalpost.com
twitter.com/joshmcconnell
Source: Canadian banks, including 'the Big Five,' sign on for major Apple Pay expansion | Financial Post