Anyone who has had a Twitter account for longer than a day has been spammed with offers of Twitter followers in exchange for money. These offers may be tempting to someone very motivated to grow their Twitter account follower numbers fast.
Not only is buying Twitter followers a bad idea – one which could harm your account in multiple ways – it's also ineffective.
Tweet this: Don't buy followers – it's harmful and ineffective.
There is a better way …
1. Your Ideal Scenario: Growth in Active, Engaged Followers
You want real people with real interest in your content. You don't want robot followers. Buying followers in bulk ("$5 for 5,000 Twitter followers!") will only get you a bunch of fake followers (Find out how you can remove fake followers with ManageFlitter here). More active followers means more visibility and engagement on your Tweets.
After all, if you have an interesting message to share with the world what good does it do if no one hears it?
Tweet this: What good is an interesting message if no one hears it?
Note: If you've already bought followers, you can clean up your account by blocking spam followers using ManageFlitter's Unfollow tool.
You could always run Twitter ads to gain followers, but the typical CPF (Cost-Per-Follow) is over $1.00, sometimes nearing $2.00. Justifying $2 000 to get 2 000 followers is difficult, unless you're a gigantic company with cash to spare.
Or you could grow your Twitter followers organically without buying Twitter followers or paying for Twitter ads. It's less expensive, even if you calculate the cost of your time, and it works: you will grow your active, engaged Twitter follower base.
2. How To Grow Your Twitter Followers Organically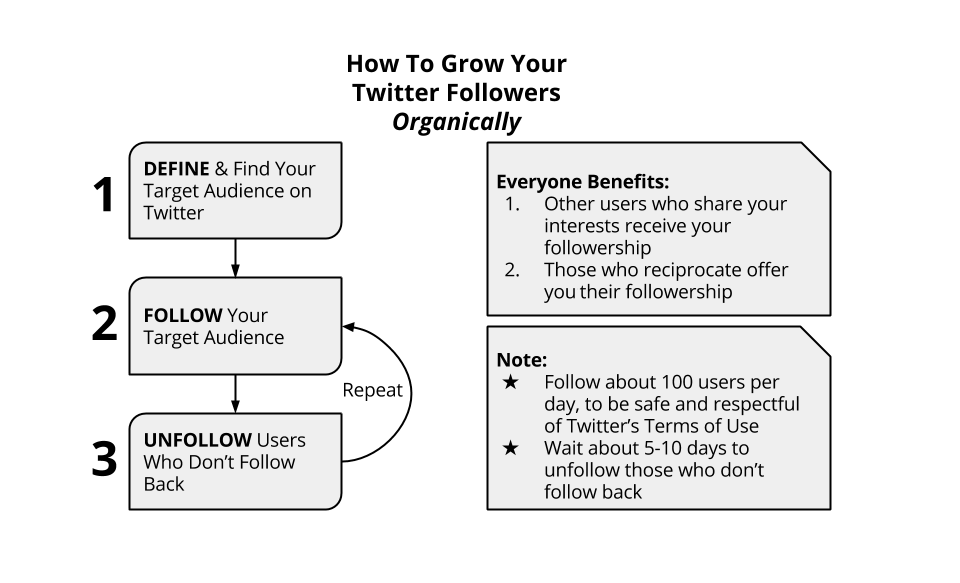 The chart above works with the underlying assumption: When an active user is followed by an account that interests them, there is a good chance they will follow back.
In my experience the likelihood a user will follower back is usually between 20% and 30%. This is, of course, dependent on a few key factors. For example, if you are a lawyer and you follow a musician, the likelihood they will follow back is lower.
Q: How many Twitter followers will I get using this method?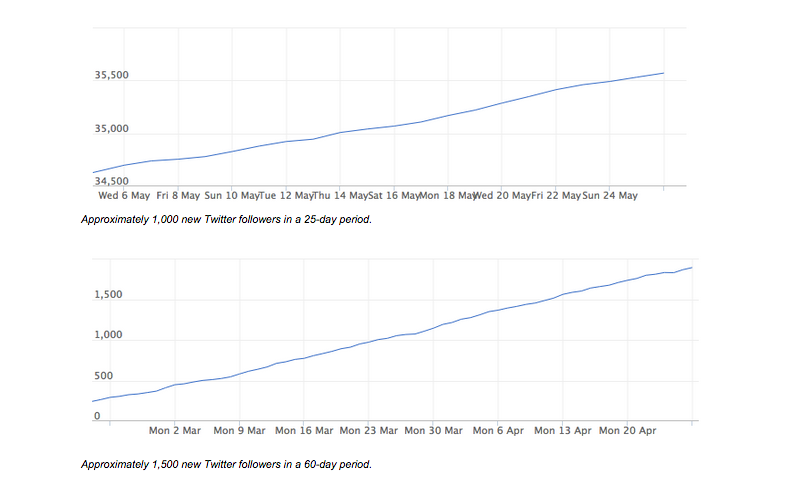 A: Usually small accounts will get somewhere between 300 and 500 new, engaged users every month, if they target the right users. Larger accounts will gain over 1 000 new Twitter followers every month.
Step 1: Define Your Target Audience on Twitter
Who do you want to follow you? Or perhaps more importantly, who would want to follow you?
If you're a freelancer or consultant, don't only focus on people you want to hire you. Focus on people doing what you do, and because it's more likely they'll follow you back, you will eventually become an influencer in your space.
There are two ways to target Twitter followers:
Information in their Profile (Bio and Location). People often indicate their job title, place of work, interests and even family life.
Information in their Tweets. People often Tweet about what they like, what they spend their time on at work, what they do and where they go.
If you have a Twitter account for a restaurant, you can look at who is Tweeting about food of a similar genre near your area. If you are a keynote speaker with subject matter expertise in leadership, search Twitter for people who have entered 'leadership' in their bio – it's an incredibly active topic on Twitter and you will have plenty of success engaging these users.
Step 2: Follow Your Target Audience on Twitter
In a careful, calculated manner, follow the results of the search you performed for your target audience. We recommend sticking below 100 follows a day, unless you're a larger account. Here's why:
Twitter is rightfully wary of people who follow too many accounts too quickly and works hard to keep spammy users off of Twitter. If you follow 1 000 users in an hour, you will probably get suspended. We are not recommending taking this risk. Ever. It makes Twitter worse for everyone, and suspensions can be painful.
Twitter doesn't explicitly publish how quickly is too quickly, but we have found that staying under 100 follows in a day is safe. Some larger accounts can follow more, as they have obviously developed good standing among Twitter and Twitter users.
Even playing really safe and abiding by Twitter's Terms of Use, however, it's possible to grow your Twitter account rapidly.
Tweet this: You CAN grow your Twitter followers rapidly without breaking Twitter's rules.
Step 3: Unfollow Users Who Don't Follow You Back
Give the Twitter accounts that you followed anywhere form 5-10 days to follow you back, then unfollow the ones that don't . Clearly they weren't interested or aren't that active on Twitter, so it's time to move on.
The primary reason for this is that you want to keep your follower/following ratio at a decent level. Typically, we recommend you follow 1 account for every 1.1 accounts you follow – a 1:1.1 ratio. For example, if you follow 1 000 accounts, you should have 1 100 followers.
It does look better if you have more followers than you are following on Twitter but don't worry if you don't – it is not going to significantly impact the returns you get out of Twitter.
3. Easily Kickstart Your Organic Follower Growth With ManageFlitter
ManageFlitter has spent years working hard to develop a system that facilitates legitimate and effective use of Twitter. The current web app is a fantastic piece of software for both business and personal Twitter use.
Here are some of the ways organic follower growth on Twitter is better with ManageFlitter:
Finding Targeted Users Incredibly Quickly: Searching on Twitter for your targeted audience can be time-consuming unless you use Twitter's Advanced Search. However even Twitter's Advanced Search doesn't give you the ability to act on multiple users after selecting the ones you want to perform some action on, like ManageFlitter does.
Following Targeted Users Quickly: ManageFlitter provides the fastest possible following capabilities while maintaining full compliance with Twitter's Terms of Use. Once you've pulled up your search results, you can rapidly click through the list of results to follow each individual user. Following around 100 users would take you a total of about 5 minutes – probably less.
Unfollowing Users Who Do Not Follow Back Quickly: It's difficult to manually keep track of when you followed certain users. In ManageFlitter's Unfollow tool, you can display results with filters, such as "Don't Display Users You've Followed in the Past 5 Days" among those who don't follow you back. This allows you to view only the users you intend to unfollow – ones that haven't followed you back in a set amount of time.
Tweet this: Find and follow targeted Twitter users efficiently with @ManageFlitter.
Larger numbers of legitimate (not fake) Twitter followers can benefit your business. As you can see above growing your Twitter account followers organically and legitimately is straightforward and requires only a minimal amount of your time and effort.  The rewards will be worth the small effort.
Source: Don't Buy Followers: How To Grow Your Twitter Followers Organically – ManageFlitter Blog